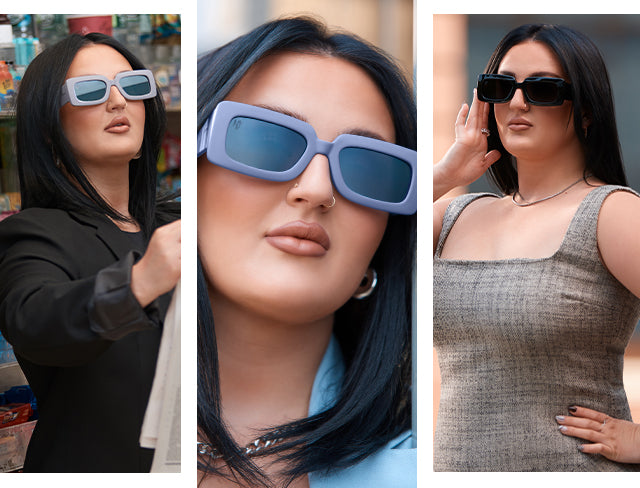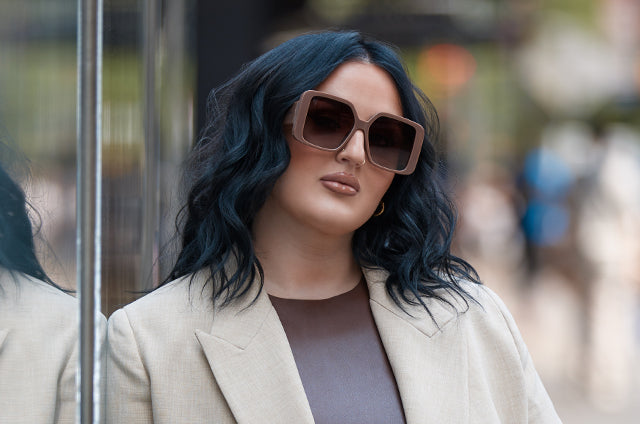 it's all about cool confidence and glam vibes. mikayla jane x dime features bold styles with something to say. own your style stardom in fun, glam shades that are always eye-catching and straight up enviable.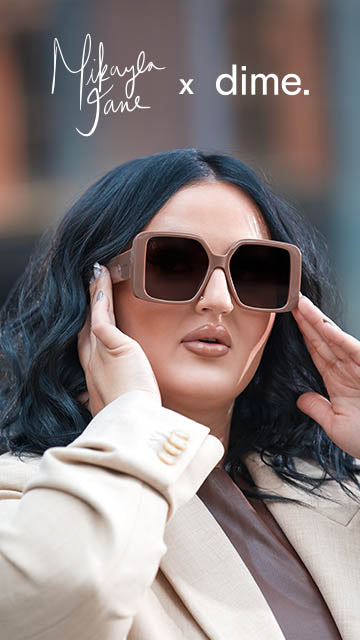 FAQ
what led you to collaborate with dime optics for this collection?

this is not my first tango with dime! my first collection was so special and successful, i just knew I wanted to extend my line and create more stunning shades for the summer. these shades represent the changes I've had in my life over the past year, and the shoot represents the business woman I am becoming! dime has been with me on my journey, and they keep me stylish with their sunnies!

how would you describe the aesthetic of this collection?

i like to call it… a business bitch with style. i like bold, unique, loud shades. Something modern and fun, with timeless neutrals but also a pop of color. the shoot was INCREDIBLE and perfectly captured a business-savvy aesthetic mixed with glam, good vibes, and it's totally chic! the shoot took place in New York City, where i often travel for work. Whenever I find myself in New York City, i love to see the fashion as it always inspires me. Same goes for this collection. it inspires my style, and i hope it will inspire yours.

how do you want people to feel when wearing your collection?

when I think of the collection, I think about how it was designed based on my work-ethic and my "business bitch" alter ego. It represents hard-work, determination, perseverance, strength, and owning who you are. When people put these shades on, I want them to feel ready to strut the streets and get shit done. No excuses, no holding back, your time is now. It's never too late to be who you want to be and to control your own destiny.

what made you want to start a career as a beauty influencer

i didn't want to start a career as a beauty influencer! of course as any child does, I had dreams of being just like the YouTubers and social media stars I grew up watching, but some dreams just feel too out of reach. I never felt good enough, pretty enough, popular enough to follow those footsteps, so I never planned to try. That all changed in 2020 when I posted my first Tik Tok video and it changed my life overnight. Nothing was ever the same. At that moment, I saw that little girl and realized that maybe I was letting her down. Maybe she would want me to try, even if the dream really seemed preposterous. So I tried. I began to share my deepest passion with the world, beauty & makeup. Every day, day in and day out, I created videos and worked harder than I ever had. Three years later, I am dropping this line of sunglasses, I have multiple sell-out makeup collections with iconic, award-winning brands, I've received awards and been featured by many noteworthy media outlets. This career has been an absolute whirlwind and it still doesn't feel real half the time. But I am blessed, privileged, and grateful that I get to spend my life doing what I knew I was meant to do. As I say, if I can make one person smile, laugh, or feel beautiful each day, I've done my job.

out of all your accomplishments, what are you the most proud of?

i am most proud of my vulnerability. over the course of three years, i have been open about my struggles with mental health, OCD, and eating disorders. for me to be able to share with the world some of my deepest struggles, simply knowing it could help someone else. To me, that is the most amazing accomplishment. Being vulnerable and open to millions of people is scary, but I know in my heart mental health needs to be spoken about more, and destigmatized. There is so much hope, community, and care we can gain from that. I hope to be able to continue sharing my stories of struggle, in hopes that others can share theirs, seek help, or simply feel heard and not alone.